It has been a long time or to be honest ever since its inception, Human Capital Professionals continue to exacerbate the perception of the "Bizz fraternity", that HR does not provide bottom line to an organization. What value does this perception hold for HR domain and what can be its future implication? Is Human Capital Consulting evolving enough to eradicate this perception?
Deloitte's 2015 Global Human Capital Trend Report enumerated 10 talent challenges and the capability gap of organizations to cope with them. The challenges were: Culture and Engagement, Leadership, Learning and Development, Reinventing HR, Workforce Capability, Performance Management, HR and people Analytics, Simplification of work, Machines as Talents and People Data everywhere. The aforesaid parameters rather cover almost every aspect of HR and the capability gap to meet these challenges depicts that there has not been substantial upgradation to meet these challenges.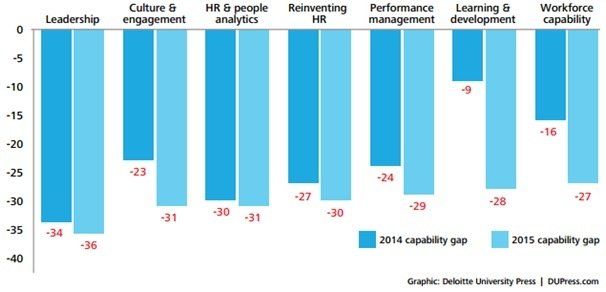 But the good news is, many organizations are actively recognizing the importance of intellectual capital as a critical success factor. More and more organizations around the globe are now trying to report on the intangible aspect of their business. This trend is observable in Europe where various projects by the European Commission such as METITIUM, PRISM acts as regulations for aforementioned reports. Similar initiatives are being taken up by Iceland, Germany and Spain. Moreover with the Introduction of the International Accounting Standards, companies are now forced to account for intangible components and comply with the reporting standards. Software companies viz; SAP, Hyperion, Oracle, 4GHI or Peoplesoft are developing applications to facilitate the growing concern over the intangible capital.
Emerging views of Consulting Firms
The increasing awareness of Human Capital has made the Consulting Firms to provide services in various areas related to this field. PricewaterCoopers assist companies in their value reporting initiatives to help increase transparency in Corporate Reporting. PWC believes that in the Global Village, correct distribution of Intellectual Capital at different hierarchical levels requires best strategy Integrated Solutions, Processes and Technology. WatsonWyatt offers Human Capital Audit. Capgemini and Ernst & Young, share the belief that intangibles are the key drivers for sustainable competitive advantage and KPMG states that most general risks are derived from intangibles and hence require customized and careful management. In the light of challenges that exist in management of intangibles, the broad array of services provided today are:
Facilitating accounting of Intangibles
Legal advice to protect Intellectual Property such as patents, Copyright etc.
Guidance on building Customer or stakeholder relationship
Improving Stakeholder Dialogue and Value Reporting
Human Capital or Capabilities Assessment
Solutions pertaining to value branding
A Small & Medium Enterprise Perspective of Human Capital Consulting 
Large and complex firms have been able to appreciate the services and programs provided by the Consulting firms. But due to economies of Scale Consulting Firms have not been able to provide much to the Small & Medium Enterprises. HR services have been considered as cost prohibitive in this sector hence we will find a variation in the adoption of these programs in the Large SMEs Vs the small SMEs. The basic idea of adoption of Human Capital programs is seen synonymous to bringing about innovation in organization. Research suggests, firms where knowledge and skills are unique to the firm and generate significant value, substantial investment in Human Capital can be anticipated. But in firms where work specific knowledge is not required and employees have less opportunity to significantly add value, less investment in human capital should be anticipated. Traditionally SMEs do not adopt Human Capital Services but vendors have recently begun to provide packages through PEO model. But still the adoption of this innovation will vary as per the size of SMEs. In case of small SMEs, much of the decisions for adaptive responsiveness will be taken by the Leaders, who traditionally believe in their own capabilities to manage workforce rather than that provided by Consulting Firms. In contrast, basing upon the Rational Account perspective, larger SMEs are aware of their dependency on the human capital, so they will be willing to adopt human capital service as a response to the mounting pressure created by environment or strategy. It is important to note that because small SMEs find Human Capital Consulting Services cost prohibitive, there is an increasing trend to adopt outsourcing model in order to achieve these services easily.
Changing Trends in Consulting Career: 
The Advisory Phase
As we have seen before the contrasting perspectives of the consulting firms and the small SMEs in the deriving the importance of Human Capital or Intellectual Capital, there are many other challenges that the Consulting Industry faces. Currently there are many emerging trends in Human Capital Consulting, but whether these trends are aimed to cater to various challenges or not, is still questionable.
The Growth strategies of the Big 4 are shifting the dynamics of HR Consulting Landscape. It is facilitating the competition of HR Advisory Businesses of the Big 4. According to Kennedy reports, the HR consulting revenue growth was recorded between 5% to 10% in the year 2014 and 2013.
The consulting firms have also been observed to integrate HR Services from adjacent business lines, which include Strategy, Tax and Transaction Consulting. Intriguing level of innovation has been witnessed in areas of HR Operating Models, Practical application of HR Analytics. 
The Evidence-Based Approach
The consultants are now being welcomed to the Evidence Based HR where they are expected to use analytics and technology to drive outcomes and bolster strategic decisions.
"The days of being a paid friend are over. Our industry is being challenged to integrate advisory solutions—the consulting—with data analytics and technology to deliver services and solutions in a more relevant way." says Orlando Ashford, President of Mercer's talent business.
One of the major challenges facing the HR fraternity today is Talent Management. Development of hard metrics which can facilitate the CHROs to identify the functions and the company's value is a major source of opportunity to the Consulting Industry.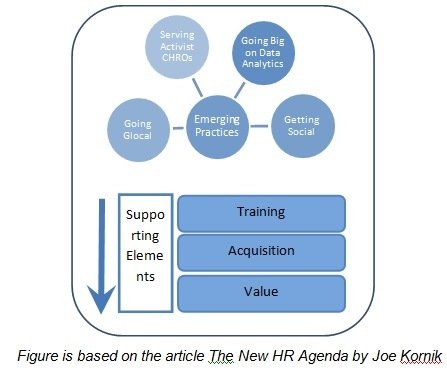 The Economist HR Approach
The Human Capital Consultant today is not just concerned with the Human aspect of Business but also is expected to drive business. With increasing integration of functions, the key competency of a HR Consultant would be to have a holistic knowledge of the firm's strategies, market conditions and skill to cascade the strategies into the employee engagement funnel. Questions pertaining to Merger and Acquisitions or Varied turnover rates in different nations can be answered only with an economist point of view. In this approach macro-economic factors such as GDP, Employment shifts or public infrastructure spending becomes extremely critical.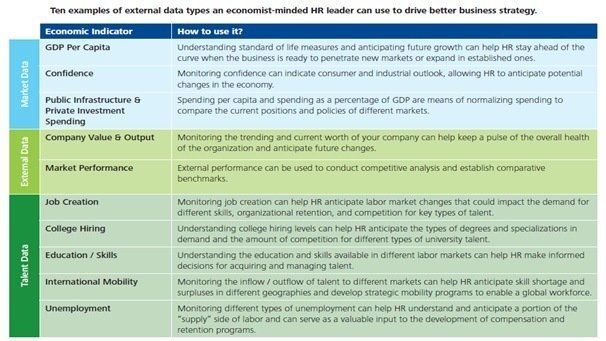 Source:   http://deloitte.wsj.com/riskandcompliance/2013/06/25/human-capital-seven-emerging-threats-and-opportunities/
The Future
 In the years to come Human Capital Consulting will be viewed as a series of diverse assignments between consulting and working as an employee or as a contractor with clients. Increasing trend in client demand has been pushing these consultants to target buyers beyond HR Function, including C-Suite occupants and corporate finance executives. Tower Watsons Managing Director, The Americas Carl Hess, believes that there is a rapid integration of the principles of Behavioural Finance and HR behavioural models. With the advent of use of technology in HR practices, the consultants are also feared to face many legal and ethical ramifications of these technologies, e.g. Use of Facial Recognition Data that predicts Job Fitment. The future enfolds a mixed bag of opportunity and challenges for Human Capital Consulting. In order to bring out the best from the days ahead, the HR consultants have to prove themselves as Business Leaders by integrating knowledge from diverse domains and adding value to the company's balance sheet.
References:
http://www.emeraldinsight.com/doi/full/10.1108/14691930510630895
http://www.sciencedirect.com/science/article/pii/S0883902609000032
http://www.consultingmag.com/sites/articles/2015/09/14/kcra-corner-why-hr-consultancies-should-care-about-the-big-4/
http://www.consultingmag.com/sites/articles/2014/09/08/the-new-hr-agenda/
http://www.emeraldinsight.com/doi/full/10.1108/13620430510609154#
http://www.emeraldinsight.com/doi/pdfplus/10.1108/14754390580000606
http://deloitte.wsj.com/cfo/2013/04/12/a-simple-strategy-for-winning-the-talent-war/
http://deloitte.wsj.com/riskandcompliance/2013/06/25/human-capital-seven-emerging-threats-and-opportunities/
Latest posts by Sudha Pujari
(see all)
Tags:
hr
human capital
human resource