Dear Readers,
Here is wishing a very happy and prosperous New Year to each one of you. We hope that 2015 brings you joy and prosperity. We are sure you  enjoyed all the festivities of December. With the month of January serving us some harsh freezing weather, we present you another  intriguing and exciting edition of DoMination.
  This edition features a number of articles from a diverse range of topics such as India's Manufacturing Sector, E-Commerce and Economy. The cover story for this edition is a take on Narendra Modi's ambitious Make in India campaign. It is titled "Make in India: Solution or a Question Instead", written by Ms Rohini Mandiwal. It tells us about some recent consequences of this campaign. The Perspective section of this month's domination is titled"Resounding E-commerce: Amazon, Flipkart and Alibaba". This article is written by Ms Prachi Jain and she discusses how these major E-commerce giants carry out operations and provide distinctive user experiences
DoMination is never short of the fun quotient. This edition features our next round of quiz to test your grey cells. We also have a Fun Cartoon by Nitin Aggarwal under the chlorophyll section. DoMS, IIT Roorkee organized the 18th Annual International Conference on Operations Management by Society of Operations Managementduring 12-14 December, 2014. We have a report on the event including parts of speeches by some of our esteemed guests. It is written and compiled by Mr Arjun Gaur.
It is always good to back to our alumni, listen to their experiences learn from their journey; the current edition has an interview of Mr. Ankur Gaharwar (DOMS, IIT Roorkee, Batch of 2012-14), taken by Ms KarishmaManik. Ankur currently works at JBM Group. The edition also includes the success story of Mr SatyaNadella, Current CEO of Microsoft, written by Mr Ashutosh Puri. We finish this month's DoMination with an article titled "Financial Inclusion in India: RBI's Vision" written by Mr Kapil Gupta. Kapil has talked about the challenges in front of RBI while working towards financial inclusion and what are their targets.
We hope you will like the present edition of DoMination. Your thoughts and feedback are always welcomed and appreciated. Feel free to write to us your inputs. Happy Reading.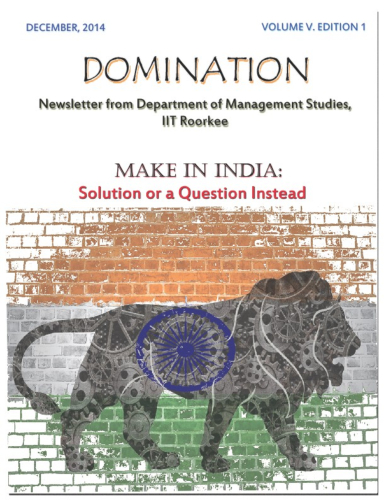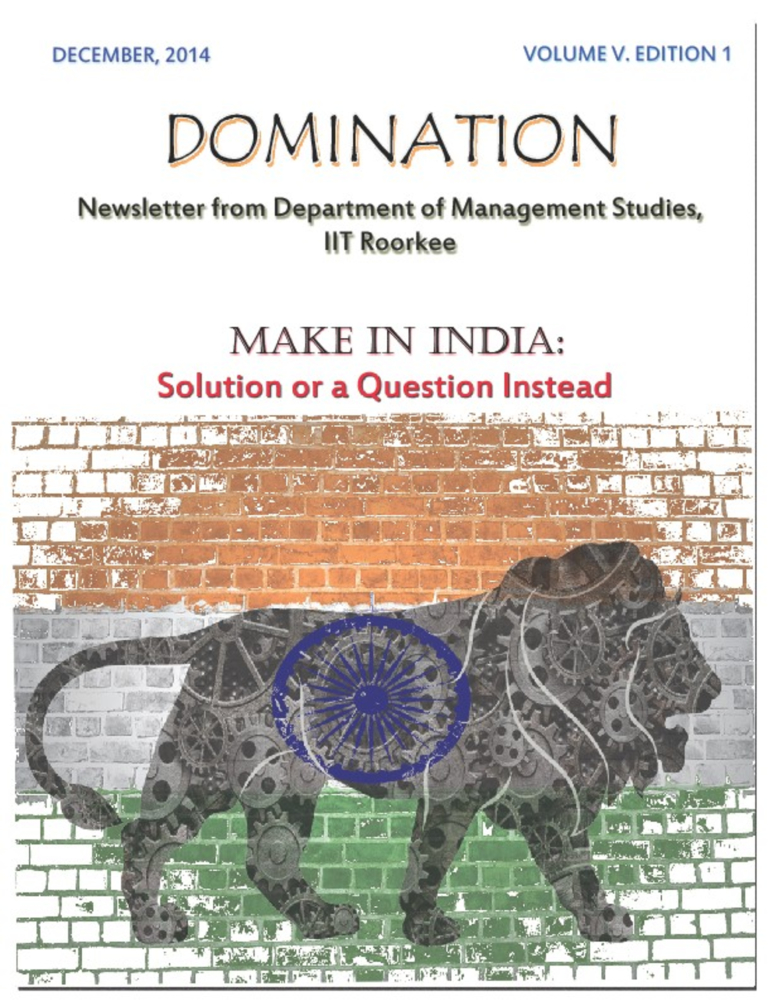 You will love reading: Domination Newsletter – Jan 2015. Must read article EcoShastra, Jan 2015.