The history of early banking dates back to around 2000 BC in Babylon when merchant bankers used to issue credit to traders selling goods in other cities. The beginning of modern banking can be traced to 14th Century during the Renaissance period. I do not think anyone would have imagined in those days that in future one will have automated banking or social media. In fact, it was nearly 6 centuries later, that the first ATM machine was installed by a gentleman named John Shepherd Barron. In case of India, the first ATM machine arrived as late as 1988.
We have moved a long way since then and both the country and the economy have entered the digital age. Today, credit and debit cards rule the market and most of the transactions happen online. But is it not still quite complicated ? I mean one has to fill so many forms, wait for approval, get access to an account online and finally execute the transaction.
The current scenario of banking can be aptly described in the following words:
"I wish life was like banking,' I said. 'I don't mean it's straightforward. Some of it's incredibly complicated. But you can understand it in the end, if you try hard enough. Or there's someone, somewhere, who understands it, even if only afterwards, after it's too late. The trouble with life, it seems to me, is that it can turn out to be too late and you still haven't understood it."                          ― Julian Barnes, Talking It Over
For instance, if you ask a common man in the streets, he or she might not be even aware of terms like credit, debit or current accounts but needs to deposit and withdraw his money. So how can he access the bank on the move and do his transactions online with minimum financial know-how? The solution to this problem might even resolve the issue of financial penetration in rural parts of the country which has over 50% of the population of our country.
Kotak Mahindra Bank has come up with a solution to address this problem. The bank has recently inaugurated Jifi- the first social banking initiative in the country. This can provide a much needed relief to young tech savvy population of this country who are always hooked on to Facebook and Twitter.
Why I love the Jifi Initiative:
1. Simple and easy to login interface
Gone are the days, when one had to remember user names and passwords for accessing banking accounts. With the use of Jifi, this can be easily solved as it enables login by Facebook. Now, that's quite a change!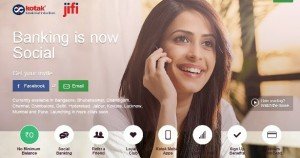 Login Screen for the Jifi Experience – This marks a significant change from traditional login screens for banks
For the first time in my life, I came across a banking portal that was user friendly and had a dynamic feel. It seemed to me that I was accessing a social site with absolutely no hassles. Moreover, for each of my actions, I get credited with social and transaction points which can be redeemed for exciting gifts and discounts. In addition to this, I could also invite friends, trade points with them and enhance my social banking experience.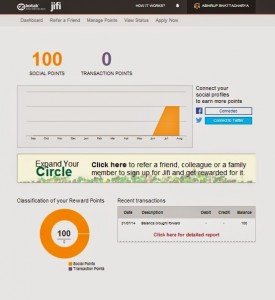 My Dashboard- This provides a clear status of available points and recent transactions.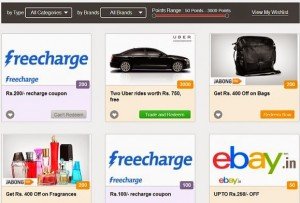 Redeem reward points- The interface provides a hassle free way to redeem the points earned across a wide array of popular brands and services. I found it a great way to appreciate the loyal customers of a bank.
3. Tweet my way !#JifiIsHere
I had never imagined that I can tweet and reach my customer service operator to look into any issue that I face. Kotak Jifi makes it possible. Account updates, cheque book requests and other activities are now just a tweet away for retail customers like you and me. Simply amazing!
4. Core banking benefits! It's awesome!
The Jifi platform also offers several amazing banking facilities to normal individuals which are often reserved for corporate clients. These are:
No minimum balance, non-interest bearing current account

– I simply love the no minimum balance part. In my college days, I hardly used to have any money left towards the month end and still couldn't touch the account in order to maintain minimum balance. Wish it was there earlier! Jifi offers a no minimum balance current account that can be opened with an initial payment of Rs. 5000.
Auto Term deposit creation once the average balance crosses Rs. 25,000/– It will provide additional savings for consumers in terms of higher interest rates on their deposits.
Free Jifi Platinum Chip Debit Card for first year– Now, that's awesome !
Free NEFT through Net Banking– This is helpful especially if one does regular online transactions of significant value.
In addition to this, the mobile interface of the portal (with app support) can provide access to banking services for the rural population of the country without the need to set up physical banks. India has over 850 million mobile subscribers, being the second largest market after China, and this step can connect the masses with banking system ushering in a new era of financial inclusion in the country.
In case of urban population, it is all about the connectivity. Kotak Jifi provides the perfect solution in this regard. It allows one to connect the dots in the financial space, plan expenses and create a social bond while managing his personal finance. For instance, I can ask my friend to share his points with me so that I can redeem a makemytrip voucher while booking my airline tickets. Amazing, isn't it?
What about my security? Will I be safe?
While security might be an issue (in case Facebook and Twitter account of the user is hacked), Kotak Mahindra Bank seems to have adequately tackled this problem as well. In such a scenario, the hacker will only be able to see the social and transaction points but will have no access to the account balance details nor will he be able to execute any transaction. This is because Jifi has an additional security layer where the user has to login to his net banking account to execute any transaction. Smart move, right!
Will I have access to conventional banking through Jifi account?
As a customer of Jifi, one will also have access to conventional offerings like pan-India branch and ATM network, platinum debit card, all-India toll-free number, net card and net banking access. Overall Jifi offers the best of the two worlds of banking and social media. It is currently available in selected cities like Mumbai, Delhi, Chennai, Kolkata, Bangalore, Hyderabad, Pune, Coimbatore, Jaipur and Lucknow and will soon be available pan-India. However, the user can access the account from anywhere in the world.
In terms of evolution of banking, Kotak Jifi is a step forward and it is great to find an Indian bank leading the way. If you still haven't tried the Jifi experience, do it today! Am sure, you would love it. 
Link: https://www.kotakjifi.com/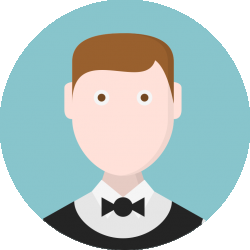 Latest posts by Abhirup Bhattacharya
(see all)
Tags:
banking
JifiIsHere
kotak